Top of the Pops Summer of Love features 3CDs of the finest songs to come out of the iconic era. Including tracks by The Mamas & Papas, The Troggs, The Kinks, Small Faces, The Band and many more.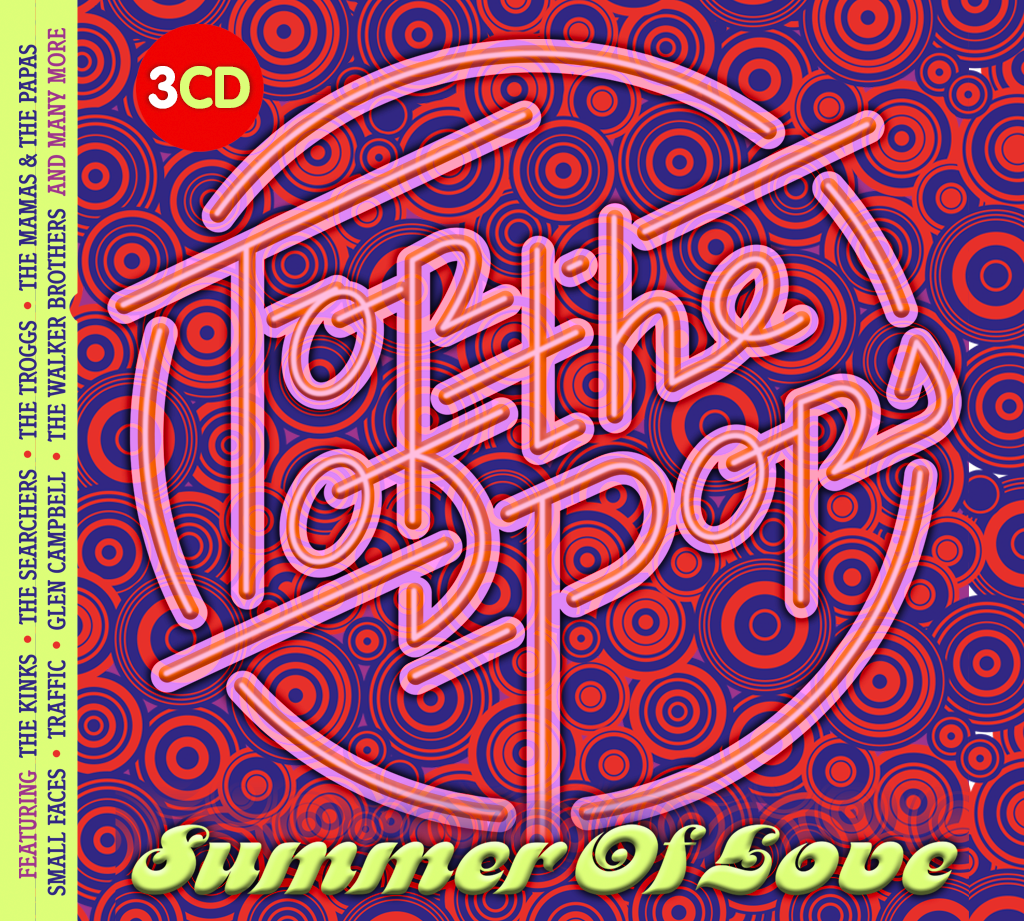 Disc 1

The Mamas & The Papas

California Dreamin'

Scott McKenzie

San Francisco (Be Sure to Wear Some Flowers in Your Hair)

The Lovin' Spoonful

Daydream

Diana Ross & The Supremes

Reflections

Manfred Mann

The Mighty Quinn

The Beatles

Ob La Di, Ob La Da

Sandy Posey

The Single Girl

Scott Walker

Jackie

Davy Dee, Dozy, Beaky, Mick & Tich

The Legend of Xanadu

Neil MacArthur

She's Not There

The Foundations

Baby, Now That I've Found You

Small Faces

My Mind's Eye

The Kinks

Waterloo Sunset

The Troggs

Love Is All Around

The Sandpipers

Guantanamera

The Mamas & The Papas

Dedicated to the One I Love

Disc 2

Small Faces

All Or Nothing

The Byrds

Eight Miles High

The Box Tops

The Letter

The Spencer Davis Group

Gimme Some Lovin'

Anne

Carrie

The Mamas & The Papas

Monday, Monday

Davy Dee, Dozy, Beaky, Mick & Tich

Zabadak!

The Mamas & The Papas

Creeque Alley

Big Brother and the Holding Company

Piece of My Heart (Feat. Janis Joplin)

The Spencer Davis Group

I'm a Man

Amen Corner

Gin House Blues

The Walker Brothers

Stay With Me Baby

Glen Campbell

Gentle On My Mind

Mama Cass

It's Getting Better

Herman's Hermits

There's a Kind of Hush (All Over the World)

Bobbie Gentry

I'll Never Fall in Love Again

Disc 3

The 5th Dimension

Aquarius/Let the Sunshine In (The Flesh Failures)

The Purple Gang

Granny Takes a Trip

The Troggs

Night of the Long Grass

The Searchers

Popcorn Double Feature

Traffic

Paper Sun

Simon Dupree & The Big Sound

Kites

Keith West

Excerpt from a Teenage Opera

The Herd

Paradise Lost

Jeff Beck

Hi Ho Silver Lining

Manfred Mann

Ha! Ha! Said the Clown

Pinkerton's Colours

Mirror Mirror

Glen Campbell

By the Time I Get to Phoenix

The Band

The Weight

Bobbie Gentry

Ode to Billie Joe


Sign up to our newsletter to keep up to date with new releases and much more!