Pop music's mid-80s peak is marked here on the brand new 3CD collection Top Of The Pops 1985. Kicking off with Huey Lewis & The News's evergreen 'The Power Of Love' you also get massive hits from the likes of Dead Or Alive, Wham!, Sister Sledge, Billy Idol, Simple Minds and many more.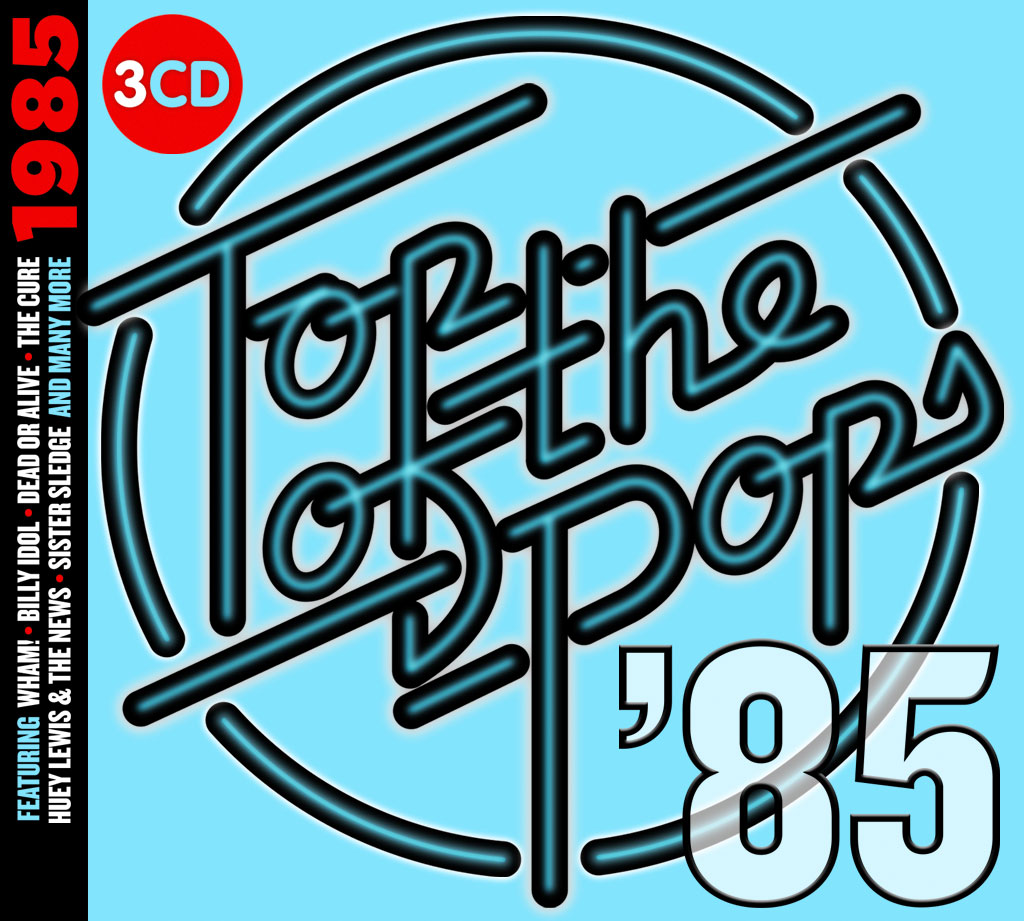 Disc 1

Huey Lewis & The News

The Power Of Love - From "Back To The Future"

Dead Or Alive

You Spin Me Round (Like A Record)

Billy Idol

White Wedding - Pt.1

Wham!

I'm Your Man

a-ha

Take On Me

Duran Duran

A View To A Kill - Main Title

Simple Minds

Alive And Kicking - Live

Animotion

Obsession

The Style Council

Walls Come Tumbling Down

Art Of Noise

Close - To The Edit

Frankie Goes To Hollywood

Welcome To The Pleasuredome

Propaganda

Duel

Killing Joke

Love Like Blood

The Cure

Inbetween Days

Siouxsie and the Banshees

Cities In Dust

The Damned

Grimly Fiendish

Lloyd Cole and the Commotions

Lost Weekend

Harold Faltermeyer

Axel F - From "Beverly Hills Cop"

The Furious Five, Cowboy, Grandmaster Melle Mel, Scorpio

Step Off - Pt.1

Disc 2

Sister Sledge

Frankie

Amazulu

Excitable - Soca Mix

Baltimora

Tarzan Boy

Nik Kershaw

Wide Boy

Animal Nightlife

Love Is Just The Great Pretender

DeBarge

Rhythm Of The Night

Dan Hartman

I Can Dream About You - "From Streets Of Fire" Soundtrack

Tears For Fears

Everybody Wants To Rule The World - 7" Version

The Style Council

Come To Milton Keynes

Billy Idol

Rebel Yell

The Cure

Close To Me

Level 42

Something About You - Single Version

ABC

Be Near Me

Loose Ends

Hangin' On A String (Contemplating)

Rene & Angela, Bruce Swedien

I'll Be Good

The Style Council

The Lodgers

UB40

Don't Break My Heart - Remastered

Disc 3

Jennifer Rush

The Power Of Love

Simple Minds

Don't You (Forget About Me) - 2001 Remastered

Whitney Houston

Saving All My Love For You

Foreigner

I Want To Know What Love Is

Elaine Paige, Barbara Dickson

I Know Him So Well

Commodores

Nightshift - Single Version

Kool & The Gang

Cherish

Ashford & Simpson

Solid

Godley & Creme

Cry

Tears For Fears

Head Over Heels - Dave Bascombe 7" N.Mix

Bryan Ferry

Slave To Love

Nik Kershaw

Don Quixote

Lloyd Cole and the Commotions

Brand New Friend

Cameo

Single Life

Maria Vidal

Body Rock

Sharpe & Numan

Change Your Mind

King

Love & Pride

UB40, Chrissie Hynde

I Got You Babe - Remastered


Sign up to our newsletter to keep up to date with new releases and much more!